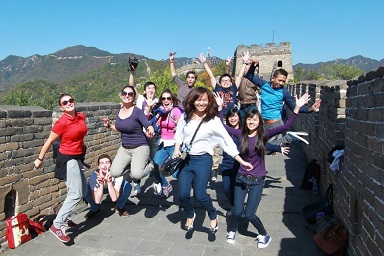 "BLCU-Guizhou Culture Studies" Program
Step on the land of China, live in the ancient capital of Beijing, visit the wonderful Hmong village and explore the beautiful Guizhou Province: this is an extraordinary journey combining the mainstream Chinese culture with Chinese minority's custom. We've already started and are you ready? My friends from afar? Beijing Language and Culture University (BLCU), known as the "mini-UN", has opened the door of Chinese language and culture for you---to learn a language while making friends from all over the world.
You are going to enjoy the traditional operas, visit the emperors' palaces and track down the long history of Chinese nation. With the ancient capital's charm still lingering, you are going to explore the mysterious hinterland of China towards the southwest -- Guizhou Province. Tsingyan, known as "the home of poetry", is an interesting ancient book waiting for you to read. The one-thousand-year-old paper-making method of the Dan Village is a great legacy of "Harmony-between-Man-and-Nature" waiting for you to experience. In the blue and white Hmong Village of Miao minority, the local people there are eagerly waiting for you to join them to dance and sing. So pack up and let's go!
This BLCU-Guizhou Culture Studies program is open for all foreign students who are interested in Chinese language, Chinese culture and ethnic minorities' traditions and customs. The courses are composed of two sections, two weeks in Beijing and two weeks in Guizhou. In Beijing, members of this program will learn Chinese language in BLCU while discovering the diversified cultures with both local students and international students from over 160 countries and regions worldwide. In Guizhou, the College of Humanities and Science of Guizhou Minzu University will combine bilingual lectures with local cultural experiences and provide the "seeing before remembering, practicing before understanding" hands-on courses for all members of this class.
Tutors will accompany students during the entire trip and offer all-round help to ensure a "worry-free" study tour.

Dates: choice A: Jul. 6th, 2017 - Aug. 2nd, 2017
choice B: Aug. 3rd, 2017 - Aug. 30th, 2017
Fees: 9330 RMB/person (courses, accommodation, dining, entrance tickets, fares and tour guides, etc.)
DO NOT include: transportation between Beijing and Guizhou (Advance charge: round-trip train hard-berth 1000 RMB, or round-trip airplane 3000 RMB; any excess expenses shall be refunded and deficiency shall be repaid, depending on the circumstances.)
Schedules for the Beijing Section
The Opening Ceremony; Campus Tour

Lecture: the Chinese Food Culture

Cultural Exchange

:

Communication

with Chinese students and playing games

Cultural Tour

:

the Great Wall

Cultural Tour

:

the Summer Palace

、

the National Stadium area(the Bird's Nest)

Cultural Experience

:

Tea Art

Cultural Tour

:

the Temple of Heaven

Traditional Snacks Tasting;

Beijing Opera or Acrobatics

Cultural Experience: Chinese Kung Fu

Cultural Tour

:

Tian'anmen Square and the Forbidden City;

Cultural Experience

:

Chinese Painting and Calligraphy

Class for Chinese Learning

A Farewell Banquet

(

Beijing Roast Duck

)

Head for Guizhou Province
Accommodation
:
Standard Double Room in the International Students House on BLCU's campus
Dining
:
the Student Canteen
(
except those special events arranged above
)
Schedules for the Guizhou Section
Time

Activity

Accommodation

Dining

Day1

Leave Beijing

Day2

Arrive in Guiyang, check in dorms;

Welcome Ceremony - Guizhou Minzu University

On-campus Student Dorms

Student Canteen

Day3

Morning:lecture

Afternoon:the Cultural Experience of Ethnic Minority Customs

Evening:A ethnic minority dance-and-sing party

On-campus Student Dorms

Student Canteen

Day4

Morning:lecture

Afternoon:visit to Tsingyan Ancient Town - one of the four ancient towns in Guizhou

On-campus Student Dorms

Student Canteen

Day5

Morning:lecture

Afternoon: Field trip to Guiyang's cultural landmark -- the Confucius School for traditional culture heritage、Visit the museum in the Arts College of Guizhou Minzu University

On-campus Student Dorms

Student Canteen

Day6

Morning:lecture

Afternoon:visit the Ethnic Culture Museum in Baiyun District

On-campus Student Dorms

Student Canteen

Day7

All Day: sight-seeing in the Huangguoshu Scenic Spot

On-campus Student Dorms

Meals provided by the travel agency

Day8

Morning: head for the Dan Village at 8:00

Afternoon:cultural experience of the ancient paper-making

The Dan Village

The Dan Village

Day9

Morning:cultural experience of the wax-printing craft

Afternoon:head for Xijiang Hmong Village after lunch

Lecture on Xijiang Culture:the history and culture of Xijiang's Miao people

Xijiang Hmong Village

Xijiang Hmong Village

Day10

Morning:visit Xijiang Museum after breakfast

Afternoon:hands-on experience of the Miao life(fish catching、cooking Miao dishes、doing farm work、watch Miao's singing and dancing、experiencing Miao's Long Table Feast)

Xijiang Hmong Village

Xijiang Hmong Village

Day11

Morning:go back to Guiyang after breakfast

Afternoon:ethnic culture salon for both teachers and students

On-campus Student Dorms

Student Canteen

Day12

Morning: Cultural experience of ethnic minority customs

Afternoon:ethnic minority sports

(e.g.:archery、clogs、the oriental hockey, etc. or other sports will be arranged due to the weather and situation)

On-campus Student Dorms

Student Canteen

Day13

Morning:summing-up meeting

Afternoon:a farewell party

Day14

Back to Beijing