Student Guide to CICS Online at BLCU
Dear International Students,
The COVID-19 outbreak has now become pandemic, and this is a special period both for the school and for all of you. To protect yourself and your families, we hope you can take effective measures for epidemic prevention and control.
During the outbreak, we will organize online teaching in order not to delay your study schedule as well as meet your needs of Chinese learning. By employing the most advanced teaching methods and optimal Chinese teaching model, we aim to help you improve your Chinese proficiency so as to ensure that all the students can complete courses on time and obtain the completion certificate and transcript.
College of Intensive Chinese Studies(CICS)
Please refer to the attached schedule for details of CICS Online, and carefully read the following instructions forCICS Online learning.
1) Scan the QR Code below through your WeChat and join the WeChat group before March 28;
2) Briefing on CICS Online Chinese Courses on March 31, 2020.
3) Online placement test by April 2.
4) Free online demo classes will be provided based on your placement test result from April 5 to April 6;
5) Pay the full tuition fee by telegraphic transfer and provide us with the payment proof (please quoteyour registration number and your name) before April9;
6) Online teaching will officially start from April 13, with a minimum of 10 students in a class.
* All the dates mentioned above refer to Beijing time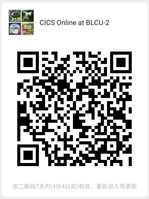 Notes:
The original 20-week applicants are switched to the 12-week online courses.

The original 12-week applicants take the online 12-week course.

The original 4-week applicants can take the online 12-week, 4-week or other courses.

New applicants please contact us via email: zhaosh2@blcu.edu.cn
Required Application documents:
①Application form(http://admission.blcu.edu.cn/en/xzzx/list.htm)
②Photocopy of Passport photo page.
Courses can be offered and arranged according to your time zone, which depends on the number of applicants.

You can find details via: https://mp.weixin.qq.com/s/DImg8M4JheMP6-39FAiNaQ
Teachers in Beijing Language and Culture University have already made good preparations for online teaching with various curriculum resources. Please scan the QR code and join us as soon as possible. Students from more than 100 countries who are also interested in Chinese learning are waiting for you. If you haven't downloaded WeChat yet, please use the QR Code scanning software on your mobile phone to scan the QR Code below, or use the browser on your mobile phone to visit weixin.qq.com/d, then you can download WeChat directly:
Wish you and your family good health and all the best. Looking forward to meeting you on campus in a more beautiful season with the hope that your Chinese proficiency has been further improved by then.
Best Regards
International Admissions Department
Beijing Language and Culture University
For details:
Guide to CICS Online (BLCU).pdf